Created by Sam Raimi, Bruce Campbell
Cast:
Bruce Campbell as Ash Williams
Jill Marie Jones as Amanda Fisher, Michigan State Trooper.
Ray Santiago as Pablo Simon Bolivar
Dana Delorenzo as Kelly Maxwell
Lucy Lawless as Ruby
SADRŽAJ:
"- Ash has spent the last 30 years avoiding responsibility, maturity and the terrors of the Evil Dead until a Deadite plague threatens to destroy all of mankind and Ash becomes mankind's only hope."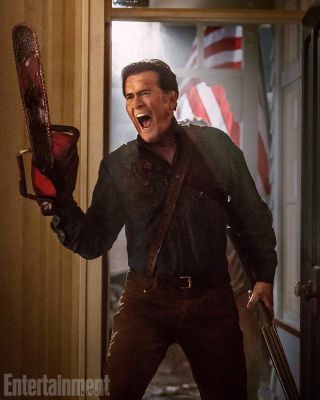 O FILMU:
- In an interview with Entertainment Weekly Campbell stated that: "Ash has survivor's guilt. You could have a heyday with his PTSD. He's a war vet. He continues being a trash-talking know-it-all who doesn't really know anything. He's the ultimate anti-hero. He's kind of an idiot, but man, if I had to go to battle, I'd want to be next to that guy, because he'll bring it if he has to." Variety quotes executive producer Sam Raimi as saying "Evil Dead has always been a blast. Bruce, Rob, and I are thrilled to have the opportunity to tell the next chapter in Ash's lame, but heroic saga. With his chainsaw arm and his 'boomstick,' Ash is back to kick some monster butt. And brother, this time there's a truckload of it".