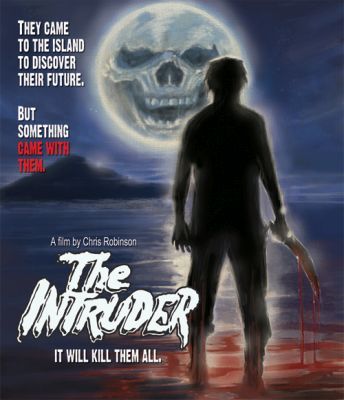 Director: Chris Robinson
Writer: Chris Robinson
Stars: Ted Cassidy, Yvonne De Carlo, George De Vries
SADRŽAJ:
''- The lust for gold brings eleven visitors to a remote island retreat, but an unseen, seemingly unstoppable evil follows to stalk them one by one. The bodies don't stop dropping until the final shattering conclusion. Who – or what – is the intruder? One thing is for certain: it will not stop until it kills them all.''
O FILMU:
The Intruder is a 1975 American horror film written and directed by Chris Robinson and starring Mickey Rooney, Ted Cassidy, and Yvonne De Carlo. Its plot follows a group of people who are stalked on an island by a killer while searching for gold.
The film was shelved by its distribution company in 1975, never receiving a theatrical or home video release, and was thought to be a lost film. In 2017, it was announced that a print of the film had been discovered. The film is scheduled to have its first release on Blu-ray by Garagehouse Pictures on August 1, 2017.
Mickey (THE MANIPULATOR) Rooney, Yvonne (THE MUNSTERS) De Carlo, Ted (THE ADDAMS FAMILY) Cassidy and Chris (STANLEY) Robinson (who also wrote, produced and directed) star in a story of greed, murder and irrational madness.
Pre-dating the slasher movie craze that would become popular several years later, THE INTRUDER is a bloody Agatha Christie-style horror thriller with a body count that rivals FRIDAY THE 13TH and BAY OF BLOOD, with creepy photography by Jack (DERANGED, DEATHDREAM) McGowan.