Directed by
Tom DeSimone
Written by
Randy Feldman
Release Date: 28 August 1981 (USA)
Runtime: 101 min
Foršpan filma...
PLOT:
"- Before being able to join Alpha Sigma Rho fraternity and its sister sorority, four pledges must spend the night in Garth Manor, twelve years to the day after the previous resident murdered his entire family. Some, however, say that one member of the Garth family survived, and still resides somewhere in the now-deserted mansion.."
O FILMU:
-
HorrorHR recenzija filma
-
Groblje Horrora recenzija
- Was I disappointed? No. Once you get past the cheesy opening with its gloriously B-movie style credits it turns into one of the more interesting stalk and slash films of the 80's
- Hell Night is a little slow moving and doesn't keep it's pace going once things start to happen and Linda Blair's acting is atrocious, but that aside Hell Night is a nice addition to the 80's slasher flicks. Good suspense, creepy locations and some nice scares earn Hell Night a 7 out of 10
- Overall, I found this to be a highly enjoyable, terrifying film experience. Certainly one of the most underrated horror movies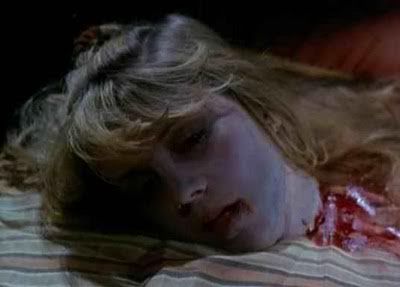 - The movie has no nudity, very little swearing and next to no violence, blood or gore---how did this get an R rating? Very dull--not even good enough for laughs. Avoid.
- I can't find anything good to recommend here. The pacing is way off, the acting is ludicrous and the script pure toilet paper. The effective castle surroundings are not used in any imaginative ways and every effort to create a scary mood gets completely squashed. Blame the director? Well, I always do. Just think what a young John Carpenter or Tobe Hooper (when he did good things) could have managed with this flick.
Not every 80's slasher has something going for it. Hell Night is living proof of that.