Režija i scenarij: John Lanndis
Glume:
David Naughton….....David Kessler
Jenny Agutter……......Alex Price
Grifin Dunne……........Jack Goodman
John Woodvine…......Dr. Hirsch
Spec. Efekti i šminka: Rick Baker
IMDb ocjena: 7.5/10 (18,396 glasova)
SADRŽAJ:
"- Dva prijatelja studenta David i Jack nalaze se na proputovanju Engleskom. Tijekom tog putovanja bivaju napadnuti od strane velikog vuka. Jack bude ubijen, a David samo lakše ranjen i spašen od lokalnih seljana. David se budi u bolnici, gdje mu pomaže lijepa bolničarka Alex, no on sam se osjeća čudno i zbunjeno, te ga prati osjećaj da mu se tijelo nekako izmijenjeno. Rane zadobivene u borbi sa vukom čudesno nakon par dana čudesno zarašćuju, no uz vrlo popratne i uznemirujuće efekte: užasne noćne more i sablasno pojavljivanje duha njegovog ubijenog prijatelja Jacka. Baš mu Jack objašnjava da ih je napao vukodlak, te da je David zaražen prokletstvom vukodlaka. Također Jack ga nagovara da izvrši samoubojstvo prije nego nastupi noć punog mjeseca jer će se David pretvoriti u krvožednog vukodlaka i početi ubijati, a uz to i Jack je pogođen popratnim efektom vukodlakovog prokletstva jer je njegov duh osuđen da luta u limbu između života i smrti među živima, i to sve dok je vukodlak u Davidu živ. David je u dvojbi: vjerovati tvrdnjama Jackovog priviđenja (koje svakim danom sve više truli i pretvara se u raspadnuti leš) ili lijepoj bolničarki Alex, koja tvrdi kao i Dr. Hirsch da su to traume uzrokovane napadom vuka. No, noć punog mjeseca se vrlo brzo primiče, a vremena za odluku što učiniti je vrlo malo…"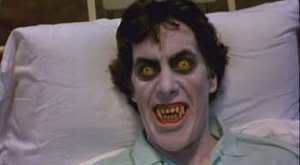 O filmu:
- Jedan od izvornik horor klasika koji ulazi u rijetke najbolje filmove s vukodlacima. Iako je film dosta star, scene preobrazbe su i danas još uvijek odlične. Film je još i odličan spoj romantike, horora, komedije i trilera uz dobru glazbu (
john_constantine
)
- Sve u svemu vrlo zabavan i gledljiv film, svakako jedan od najboljih horrora o vukodlacima, koji ljubitelji horrora svakako moraju pogledati ako već nisu.
Ocjena: 9/10 (
Dečko Koji Obečava
)
- Po meni je ovo najbolji film o vukodlacima i istinsko remek djelo horor filma, te najbolji Landisov uradak (ne zaboravimo da je to njegov vrlo osobni projekt u koji je unio i srce i dušu više nego u ijedan svoj drugi projekt) (
dr_gonzo
)
- Super film (
Groblje Horrora
)
- Ovo nije jeftini trash horor niti klasična komedija. Riječ je o fantastičnom spoju žanrova, filmu sa svojom dozom klasičnih, zastrašujućih horor scena i humorističnim trenucima. Fantastična šminka i efekti Ricka Backer uz ništa lošiju režiju Johna Landisa koji nije propustio priliku pozabaviti se britanskim kućnim problemima (
Filmski.Net
)
- Spoj komedije i horora rijetko je kada uspjevao zadovoljiti poklonike oba žanra. John Landis je u tome uspio (
portalsmrti
)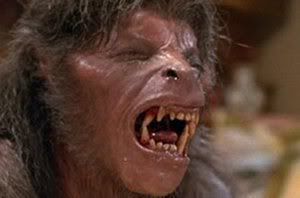 RECENZIJE:
Dečko Koji Obečava
Movieworld
HororFilm Playground predstavlja...
Groblje Horrora
FILMSKI.NET
portalsmrti.blog.hr