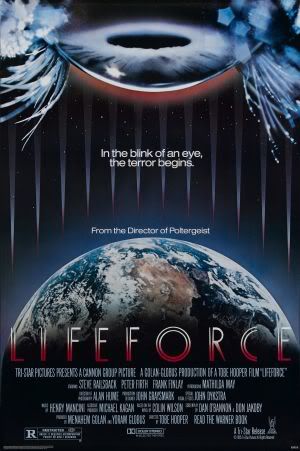 Director:
Tobe Hooper
Writters:
Dan O'Bannon
Don Jakoby
From the novel
"The Space Vampires"
(published 1976) by Colin Wilson
Release Date: 21 June 1985 (USA)
Running time: 116 min. / USA:101 min. (edited version)
Reklama filma
PLOT:
"- Halley's Comet returns to the solar system and the English/American team aboard the shuttle "Churchill", making a close-up survey of the comet, discovers an alien spacecraft in the head of the comet. Inside the spacecraft are some large bat-like creatures and in three cocoons are three "dead" humans - two men and a woman. The "Churchill" takes the humans and a creature back to Earth. There the bosses of the project are amazed to find the shuttle burnt out and all but one of the crew - Carlsen - dead. The humans from the spacecraft suddenly awake and all those who come into contact with them are drained of their "lifeforce" and in time all the victims - including most of the population of London - are turned into zombies all preying on the horrified survivors for their "lifeforce". It's up to Carlsen and Major Caine of the SAS to stop them before the whole world turns into a big blood-hunt..."
O FILMU:
-
Žuti titl recenzija
-
Horror Movie a Day recenzija
-
Planet of Terror recenzija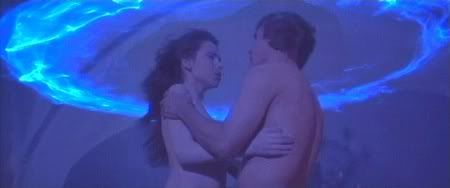 - Lifeforce is one of the strangest films I've ever seen, so ridiculous, yet at the time it's strangely compelling and never the least bit dull. Whether it's due to the nonstop nudity, the large amount of violence and action, it all comes together to make an entertaining 2 hours of cinema.
- I'll make this brief. Director of Texas CHAINSAW MASSACRE, writer of ALIEN and RETURN OF THE LIVING DEAD, combing forces and make a movie about SPACE VAMPIRES, this must be a classic right? Wrong.