331. Ricochet (1991)
Directed: Russell Mulcahy
Writing credits: Fred Dekker i Menno Meyjes
CAST:
Denzel Washington...........Nick Styles
John Lithgow...................Earl Talbot Blake
Ice-T.............................Odessa
Kevin Pollak.....................Larry Doyle
Jesse Ventura.................Chewalski
Trailer filma
PLOT:
"- Policajac Nick Styles (Denzel Washington) zadobiva veliku medijsku pozornost kada nesvakidašnjim načinom uhiti poznatog opasnog ubojicu Earla Blakea (John Lithgow) u zabavnom parku. Sljedećih sedam godina koje provodi u zatvoru, Blake postaje opsjednut Stylesom i planira opaku osvetu. Styles u međuvremenu izgrađuje blistavu karijeru i postaje državni tužioc, sretno oženjeni muškarac i otac dviju djevojčica. Blake organizira bijeg iz zatvora te namješta dokaze koji upućuju da je pritom poginuo.
Istodobno počinje postavljati lažne dokaze koje Stylesa terete za seksualno zlostavljanje djece i ubojstvo partnera. Stylesu više nitko ne vjeruje, čak niti vlastita žena, te se on za pomoć obraća prijatelju iz djetinjstva, dileru droge i vođi opasne bande, Odessi (Ice T)..."
Riječ je o odličnom napetom trileru koji se može pohvaliti spektakularnim akcijskim sekvencama i napetošću zasnovanoj na igri živaca između dvojice protivnika.
Pored mnoštva akcije i napetosti u filmu je, kao i uvijek, odličan Denzel Washington, dvostruki Oscarovac (Glory, Training day) i glumac kojeg najčešće opisuju kao intelektualno nadmoćnog, duhom bogatog i nevjerojatno seksipilnog muškarca."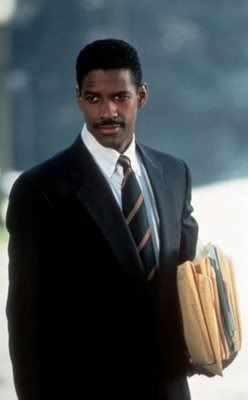 O filmu:
- Remember when John Lithgow used to be menacing? Remember when he was a demented psycho in Blow Out? or the magnificent transvestite in The World According to Garp? What about when he was a demented paranoid in The Twilight Zone - The Movie? And that religious tormented Reverend in Footloose? Even De Palma's Raising Cain was good in Lithgow's gallery of freaks. Yes, John Lithgow used to be dangerous as an actor. And one of those great performances was given in this little seen thriller directed by Russell "Highlander" Mulcahy. Denzel Washington, in a full, maniacal "Die Hard" mode, is Nick Styles, a maverick cop who is framed fro murder after Blake (Lithgow, in electric psycho mode) escapes form prison seeking revenge on Styles, the man that put him on cold seven years ago. The pace is really fast, the situations are extreme and the movie even manages to include some over the top, twisted violence. Sure, it has the very same conventionalisms and clichés of every other action movie (Styles partner dies, et al), but still, Ricochet goes over the average thanks to bravura performances by the two leads and some damn fine action sequences and camerawork
- This movie rocks! The double cat-and-mouse game played by Washington and Lithgow works. If you are looking for an action movie that provides plenty of thrills, conflicts, drama, chases, and breathtaking suspenses and actually has a PLOT, then this film is for you.
Washington and Lithgow are both first rate, as always, and this movie does not disappoint. Watch it!