Preko bare počeo se prikazivati film Ouija (Prizivanje Duhova), horor koji će u naša kina sljedeći tjedan. Izašle su prve recenzije.
Nakon dosadnog trailera nisam ni očekivao da će ovo ispasti dobro. Evo što kažu prvi koji su film gledali.
Dread Central 1/5

Again – the film isn't bad because it's PG-13. It's not even bad because it's based on a friggin' Hasbro board game. It's bad because it's poorly written, lazily directed, and features not one moment that rises above the level of "entirely uninvolving." … It's to those youngsters, and to you readers, that I'm obligated to say – skip Ouija. Skip it. It deserves neither your precious time nor your hard-earned money.

Board game? More like Bored Game.
Variety

A tale of two teenage sisters, their very expendable friends and the creepy board game that just won't leave them alone, this silly but straight-faced supernatural thriller manages to elicit an occasional shudder in between cheap jolts and false scares, emerging as a feat of competent direction over derivative scripting.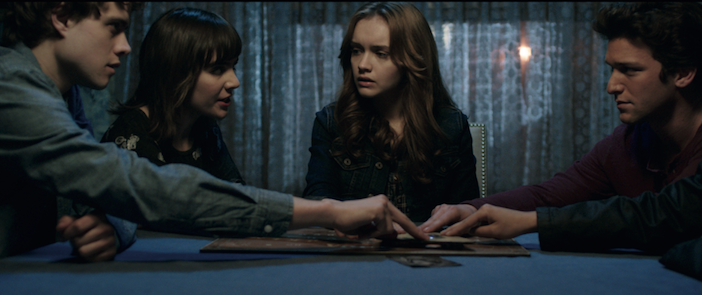 NY Daily News 2/5

Few will find themselves engaged in what happens to the throwaway characters. But if you're going, a group movie outing might work best, if only to share the shouts. Director Stiles White never met an unmotivated jump-scare he didn't like. There are countless instances where the kids turn corners to find lurkers in the dark, as booms fill the soundtrack.
SF Gate

At a certain point in "Ouija," a terrible dread seizes the audience. This dread takes the form of a realization, and the realization is that somebody is trying to sell you a Ouija board. What's more, they're employing a peculiar marketing strategy, or at least one that might sound peculiar to someone who knows nothing of human nature: Buy this. It will kill you.

Is this a bad movie? Y.E.S.
The Hollywood Reporter

In theory, a horror movie based on the Ouija board game seemed like a pretty good idea. After all, what teenager hasn't spent at least one night with his or her friends trying to scare themselves silly contacting the dead? Unfortunately, Universal's low-budget quickie aimed at young audiences hopelessly squanders the opportunity, being less scary than landing in jail while playing Monopoly.