Obitelj pokušava vratiti svoga sina iz kandži opasnog kulta u kojemu se dotični pronašao. Namame ga u obiteljsku kolibu gdje ga stručnjak tzv. cult deprogrammer kreće vraćati u normalu. U kolibi je i njegova mlada žena i bebica, ali dotičnome to baš ništa ne znači. Težak posao postaje još teži, kada ljudi u kolibi shvate da su okruženi grupom od dvadesetak maskiranih ljudi – sinovim novim frendićima.
Jackals je novi film Kevin Greutert, čovjeka koji je kao montažer i redatelj radio na čitavom nizu Saw filmova. Trailer i poster izgledali su primamljivo – kao stari slasher fanatik, već su me kupili sa slikom (dobro) maskiranih manijaka.
Nažalost, film i nije nešto…
Krenuti ću sa elementima koji su mi bili pozitivni. Ideja filma jer bar malo originalna i sviđa mi se da su ubacili maskirani kult u klasični, u ovom slučaju šumski, home invasion. Kada sa jedne strane imaš obitelj bogataša (koji u prvom napadu koriste svoje najjače oružje – palice za golf), a sa druge potpune manijake koji jedino u glavi imaju proljevanje tuđe krvi – dobar štimung je garantiran! Makar bi to tako trebalo biti uvijek, u hororima baš i nije česta pojava da gledaš film i razmišljaš da pozitivci nemaju ama baš nikakve šanse.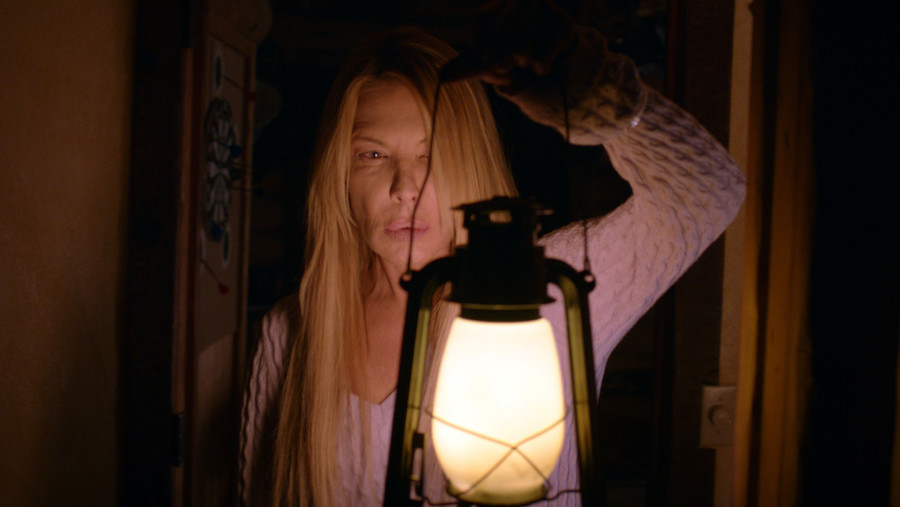 Sam lik sina Jasona mi je neuvjerljiv. Čovjek ima dijete od kojih par mjeseci, znači da je pred godinu dana bio normalan, a ovdje već na početku roditeljima i ženi prijeti kako će im njegova ekipa prerezati grkljane, ispustiti svu krv, a kao bonus odgrize mami dio tjemena. Postoje šanse da netko može od razmaženog bogataša doći do krovoločnog manijaka u tako kratkom roku, ali…
Film traje samo 78 minuta, što je super, stvarno ne znam što bi još mogli nadodati u ovako jednostavnoj situaciji. Daleko najbolji elementi su slow motion pojave maskiranih u odlično osvijetljenim scenama. Napetosti baš i nema, a jednostavno nisam mogao preći preko glumice koja je utjelovila Jasonovu majku. Nju glumi Ceborah Kara Unger, žena koja je relativno poznata iz nekih filmova ili čega već, ali majko moja što učini od sebe? Djeluje kao da je pijana išla na plastičnu operaciju kod nekog mesara iz Gvatemale. Ne možeš se uživiti u film, kada ti jedino u glavi poveznica sa onom ludom cat lady (Kara u filmu je na slici gore – ako već niste skužili;)
Uz to, početak i kraj filma, koja je poanta bila toga? Posveta kultnim hororima Halloween i Texas Chainsaw Massacre? Mislim to mi OK kada netko radi fan filmić za YT, ali ovdje djeluje nekako previše kalkulirano. Halloween intro je apsolutno nepotreban (ako ne briju unaprijed na nastavak, ali i tada).
Radi nekih OK elemenata i kratkog trajanja, za jedno gledanje prolazno i to bi bilo to…