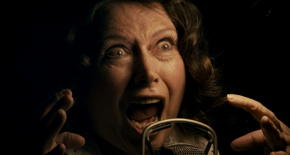 Gilderoy je srednjovječni inžinjer za zvuk, koji na poziv osebujnog redatelja Santinija dolazi u Italiju da radi na njegovom novom filmu. Čovjek naučen na mainstream dječa ostane neugodno iznenađen kada vidi da radi na vrlo brutalnom horror filmu. Malo po malo, Gilderoy se počinje mijenjati i uskoro gubi tlo pod nogama
Najtragičnija stvar je da sam recenziju za ovaj film napisao jučer odmah poslije filma, ali se dakako softver na lapu zblesirao i od četiri sejvana teksta, samo je ovaj nestao. Ajmo ponovno…
Berberian Sound Studio mi je nakon objavljenog trailera bio jedan od najočekivanijih filmova festivala. Izgleda da nisam bio jedini, gotovo svi sa kojima sam ovdje komunicirao danima unaprijed su pričali samo o Berberianu. Sada kada sam ga pogledao, mogu reći da mi je film ispao – očajan!
Odmah po odjavnoj špici okrenuo sam se prema novinarki do mene i već na licu joj vidio da dijeli moj stav. Kako je Twitter obavezni dodatak iskustvu gledanja filmova, pitao sam je da baci oko to što drugi kažu. Nekoliko je trenutaka vrtila tweetove i zaključila da horror fanovi mrze film, dok su kritičari fascinirani njegovom kvalitetom.
Kako sam i ja fan, a ne kritičar, spadam sa stavom u "naš" tabor, ali mogu shvatiti kritičare i njihov ljubavni pjev. Film je iz tehničke perspektive briljantan. Režija i montaža su savršeni, zvuk je doslovno za Oscara. Glavni glumac Toby Jones je maestralan, a čak je cijela ostala talijanska filmska ekipa vrlo solidna. Pa, gdje je onda problem?
Problem leži u tome da je, iz moga kuta gledanja, film proizvod koji se sastoji od široke lepeze elemenata. Gore spomenuti vizualni izgled, gluma i zvuk su itekako važni, ali uspješan film treba imati i neku priču i smislenu radnju. Kod Berberiana to uopće nisam mogao identificirati. Prvih 45 minuta čovjek (odlično) radi zvučne efekte korištenjem niza povrtnih biljaka, onda odjednom imamo par minuta izrezanih iz nekog dokumentarca o britanskim pejzažima (kvazi referenca na film koji rade) i pred kraj neki mind fuck gdje ne znaš tko pije tko plaća.
Film je ultra artistički nastrojen i čista avangarda, ali meni je uzrokovao samo osjećaj šoka i nevjerice. Bizarno, ali film mi prvih sat vremena uopće nije bio dosadan, spomenuta vrhunska produkcija mi je davala naznake da će se do kraja desiti nešto spektakularno, ali kako je film odmicao, nada se gasila…
Dodatna stvar koja me začudila je to da se film reklamirao kao nekakav neo giallo. Fantastično su skinuti vizualni i zvukovni elementi giallo filmova, pa čak i te dreamlike scene, ali ako se ne varam u giallu imamo ubojicu i ubojstva – a u ovome filmu nema niti jednog niti drugog! Meni je ovo najveće razočaranje FrightFesta.
Za sve vezano uz FrightFest 2012, klik na festivalski logo: