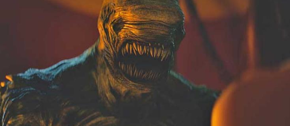 Ana i Freddy se upoznaju u autobusu koji vozi prema njihovom rodnom gradiću. Usred razgovora dolazi do sudara i Ana se budi u svom krevetu. Odlazi na posao, ali shvaća da u gradu nema nikoga. Sa upitnicima u glavi uviđa da je jedina preostala osoba u gradu njen prijatelj iz autobusa. Na njima je da shvate što se zbiva.
Pročitali ste sinopsis, jel? Znate kraj, jel? To bi bilo to, film se stvarno dešava o dvije duše koje se bore za život i smrt na malo drugačiji način. Ako vam je ovo spoiler, onda ste zalutali na krivi sajt… Na granicama gradića pojavljuje se visoki stup crnog dima koji se sve više i više približava svom centru. U dimu pronalaze vrata i par tisuća ključeva pred njima. Da stvari bude još zeznutije u dimu živi i nekakva živina.
Dvoje glumaca i devedeset minuta baš ne pretjerano originalne noćne more zasigurno nije znak da je riječ o dobrom filmu. Svje je lijepo zamišljeno i solidno snimljeno, ali ideja je toliko puta već reciklirana da se gubi poanta. Za vizualni identitet filma itekako je zaslužno par naslova, pogotovo Silent Hill i Pan's Labyrinth. Većina filma se sastoji od diskusija između njih dvoje, to bi i bilo zanimljivije kada ne bi znao kakav će biti kraj. Ajd, stavili su jedan mali twist, ali i to nas je svih ostavilo ravnodušnima.
Ono što je dobro u filmu je petnaestak minuta borbe za živinom. Odlična kreatura, koja je opet nažalost već viđena (vidi prijašnje reference na filmove). Film je zakasnio kojih 10-15 godina.
Za sve vezano uz FrightFest 2012, klik na festivalski logo: