Nakon uspješne suradnje na kultnom Dawn of the Dead dva stara majstora George Romero i Dario Argento ponovno su udružili snage u ovoj adaptaciji priča Edgara Allana Poea. Makar je inicijalna ideja bila da se u ovaj omnibus uključe John Carpenter i Clive Barker (po nekim izvorima Wes Craven), radi obaveza i vremenskog roka u produkciju se krenulo sa dva filma po oko 50 minuta.
Makar je Romero inicijalno želio obraditi Poeov "Masque of the Red Death", plan mu je poremetio Roger Corman koji se praktički u isto vrijeme upustio u adapaciju iste priče. Dobri stari Romero okrenuo se drugoj priči, koja je "začudo" imala i zombie element – The Facts in the Case of M. Valdemar. U filmu pratimo bogato oženjenu bivšu stjuardesu Jessicu (Adrienne Barbeau) čiji je muž na smrtnog postelji. Uz pomoć doktora (ljubavnika) i njegove specijalnosti hipnoze, pokušavaju unovčiti što više dionica od staroga i maznuti što više love prije nego ovaj otegne papke. U stanju hipnoze stari umire, a oni ga stavljaju u frižider budući da im treba još par tjedana da se povuče sav novac. Jedne noći, sada već zaleđen leš starca počinje govoriti…
Romerova adaptacija Valdemara je istinski kvalitetno odrađen filmić. Česta glumica u Carpenterovim filmovima, a uz to i njegova bivša žena, Adrienne Barbeau, odlična je ulozi žene koja si treba naplatiti vrijeme koje je provela sa oronulim, ali bogatim starcem. Što se on više glasa iz podrumskog frižidera, ona počinje više ludjeti. Horror elementi su na razini, a završnih desetak udarnih minuta odlično završavaju "prvo zlo oko" iz ove kolekcije Poe ekranizacija.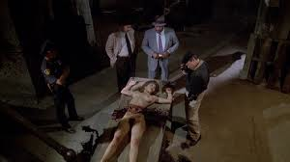 Argentom segment "The Black Cat" modern je adaptacija klasične priče o problemu sa "zazidanom mačkom". Harvey Keitel u svojoj prvoj horror ulozi glumi fotografa Roda koji se specijalizirao za snimanje scena nesreća i ubojstava. Živi sa nevjenčanom suprugom (izgledom posebna Madeleine Potter) koja jednoga dana u kuću donosi crnu mačku. Rod konstantno ima problema sa mačkom, ali u njoj vidi i inspiraciju za naslovnicu svoje nove knjige. Obavi photoshoot gdje davi mačku, a potom je i ubija. Bolja polovica počne potpuno šiziti i daju nam se naznake on njenoj dubokoj poveznici sa tom beštijom, što pojačava i odlična Rodova noćna mora sa paganskom tematikom. Rod počne ludjeti i kreće solidan, ali očekivani obrat.
Na početku filma u vrlo grafičkom "pit and the pendulum" ubojstvu, primjećuje se da je u film upetljan Tom Savini. Njegova participacija se vidi kroz cijeli segment, budući da imamo par jako dobrih praktičkih makeup efekata, a on se čak i pojavljuje u jednoj sceni gdje glumi manijaka koji je svoju rođakinju iskopao iz groba sa ciljem da joj skine sve zube. Lol, nije važno za priču, ali su ubacili to onako radi shock valuea.
Keitel je prilično dobar i ma koliko ljudi pričali da je ovo loš film, meni je bio OK. Jest da su zadnjih petnaestak minuta žešće razvodnili, ali opet film ima neki poseban štih, makar da ne znaš, vjerojatno ne bi nikada rekao da je Dario Argento za redateljskom stolicom.
Film je određenoj masi pokazao da Romero i Argento nakon nekoliko relativnih neuspjeha (Monkey Shines i Opera) nisu još za baciti, makar nije došlo do nekog očekivanog financijskog probitka. Na to su utjecali i problemi sa kino distribucijom, ali i loši odnosi sa jednim od producenata koji su došli do tužbe. U globalu, meni je "Two Evil Eyes" sasvim solidan horror duo.