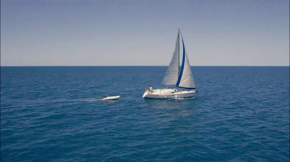 Grupa mladih ljudi odlazi na idilično uživanja na jedrilici po koraljnim grebenima Australije. Nakon nekoliko dana uživanja, dolazi do prve krize, počinju se uviđati problemi sa osekom i ponekad vrlo plitkim morem oko grebena. Jednog jutra dolazi do havarije, te se cijela grupa nađe u dilemi – dali plivati petanestak kilometara ili ostati na tonućoj jedrilici.
Još prošle godine kada sam na sajt stavio trailer, spomenuo sam sličnost filma The Reef sa obradom iste tematike u Open Water. Potonjeg još nisam gledao, malo mi prepitomo izgleda, ali ako ima ikakve dodirne točke sa The Reefom, moglo bi biti dobro potrošenih 90 minuta. Novi film redatelja Andrewa Trauckia, čovjeka koji je pred koju godinu snimio jako dobar survival film Black Water (bio je i u kinima kod nas, vidim da sam zaboravio napisati recenziju), u The Reef je zamjenio krokodila za morskog psa i ponovno napravio dobru stvar.
Od početka se vidi da je film sniman na predivnim aktualnim lokacijama u Australiji i ako ste ikada jedrili moći ćete se još bolje uživiti u cjelokupnu atmosferu filma – od predivnih otočića, morskog plavetnila kojemu ne vidite kraja, ali i paranoja o mogućim problemima koji vas mogu pogoditi. Već od prvog trenutka nesreće i početnog odabira odabrati ostanak ili plivati u nepoznato, nekako sam se zakačio za radnju i do kraja sam samo uživao.
Film nije pretjerano dinamičan, preživljavanje je prikazano prilično realno, pa nema filmskog pretjerivanja. Sve ono što se dešava na ekranu, vrlo lako se u tom situacijama može dogoditi – tu ne mislim primarno na morske pse, nego na tu bespomoćnost kada oko tebe nema ničega, a ne vidiš što se skriva u crnilo pod tvojim nogama.
Likovi su od početka vrlo jednostavno posloženi (par + bivši par), gluma je prilično dobra i u kombinaciji sa solidnim scenarijem sve fercera kako bi trebalo. Ono što me iznimno razveselilo je nekorištenje CGI efekata. Snimke morskih pasa su stvarne, a one scene gdje se psina pojavljuje u interakciji sa glumcima su ili odlično snimljene ili još bolje izmontirane od dvije različite snimke. Moram pohvaliti tu vrlo rijetku činjenicu, čak je i u onim scenama napada vizualno sve odrađeno na najvišem nivou.
Mene je film pozitivno iznenadio, pravi survival horror koji ti u glavi postavlja pitanja što bi ti učinio u određenom trenutku i kako bi reagirao na neke životno ugrožavajuće situacije.