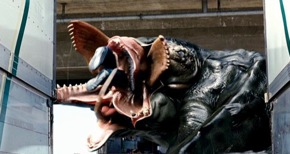 Tipičan dan uz rijeku Han na čuđenje šetača prekida nepoznata pojava koja visi sa jednog od mostova. Kada nepoznato biće skoči u vodu i priđe obali, ljudi prema njemu počinju bacati pive, kamenja i sve što im padne pod ruke. Živini se njihovo ponašanje pretjerano nije dopalo, te izleće van i pokreće masovnu paniku i stvara brojne ljudske žrtve. U fokus priče dolazi pomalo ćaknuta obitelj, kojoj monstrum otima mladu rođakinju.
Makar sam pratio sve informacije o ovom hvaljenom korejskom filmu, prošlo je već dvije godine od izlaska a ja nikako da ga pogledam. Te neke posebnije filmove volim kupiti pa pogledati uživajući u odličnoj DVD slici i zvuku koji mi nudi kućno kino, pa malo sporije dolaze na red. Nakon što sam kupio Playstation 3 radi njegovog Blu-Ray playera, The Host mi je savršeno došao za jedan od prvih Blu shoppinga. Koliko se sjećam nije bio ni skup, nekih 25 dolara u Virginu u downtown San Franciscu.
Gledao sam do sada jedno 3-4 Blu-raya, ali ovaj se pokazao kao savršen primjer za uživanje u odličnoj kvaliteti visoke rezolucije. Uz sve audio mogućnosti (5.1 DD, DTS), slika je nevjerojatno čista, boje su perfektne – ukratko taj dodatak samo poboljšava već odlično filmsko djelo.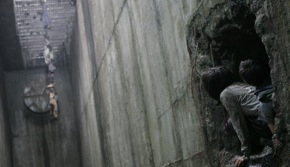 Nisam od jedan od onih koji previše čitaju sinopsise i kritike na filmove koje nisam pogledao, tako da sam do malo prije mislio da je The Host iliti Gwoemul samo nadprosječno dobar monster-attack film. Je, mutantna živina je u igri, ali je film kombinacija niza žanrova koji su spojeni u skoro pa dva sata iznimno dobre zabave. Praktički osim CGI efekata u nekim scenama filmu nemogu naći niti jednu zamjerku, pasao mi je na svim razinama.
Monstrum je odlično koncipiran, mutacija ribe, amphibiana i reptila koji je stvoren uz pomoć toksičnih materijala puštenih u rijeku Han od strane svepristune američke vojske. Ako se dobro sjeća, ovo je bazirano na stvarnoj situaciji, ali dakako nije se vrtilo oko "živčanog monstruma". Film počinje vrlo dinamično, monstrumčina brzo kreće u akciju, ali se događaji nakon toga šaltaju u nekakvu kombinaciju drame i komedije sa elementima satire i društvene kritike, a scenarij i izvedba te jednostavno potpuno uvuku u radnju.
Ne želim ulaziti previše u detalje – film apsolutno preporučujem!