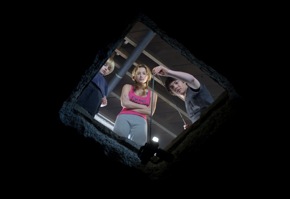 Rupa Straha 3D je novi film redatelja Joe Dantea (Gremlins, The Howling) u kojemu pratimo dogodovštine vezane za misterioznu rupu u podrumu kuće. Nakon preseljenja u mali gradić, braća Dane i Lucas u podrumu svoju nove kuće pronalaze misteriozna zakračunata vrata. Uz pomoć zgodne susjede otvaraju sve lokote i pokušavaju shvatiti gdje vodi rupa. Već prve noći se počnu dešavati čudne stvari i ekipica uskoro shvaća da su otvaranjem rupe na površinu zemlje pustili nešto što nije smjelo biti tu.
Film je u globalu nekakva sredina, ima svojih pozitivnih momenata, ali generalno mi je ispao nekako dosadnjikav. Zapravo ono što mi se sviđalo u Rupi Straha je nekakav pozitivan osjećaj osamdesetih. Od okosnice Danteovih ranijih uradaka (obitelj, mali gradić), preko zapleta (djeca koja istražuju nešto misteriozno), horror elemenata (napad klauna, zlo iz rupe), do vizualnog izgleda dijelova filma (posebice završnih scena) nekako mi je sve, u pozitivnom smislu, smrdilo na filmove iz te zlatne ere horror žanra. Ne znam, u glavi su mi se stalno vrtjeli neke poveznice na klasike poput House serijala, Takácsovog The Gate i Deckerovog The Monster Squad…
Ono što se dešava na ekranu poslije kojih pola sata filma počinje gubiti na zanimljivosti i dinamici, ali i na kreativnosti. Od dobre ideje, scenarij se raspliće prema već viđenim twistovima, očekivanim događanjima na ekranu, pa uz "fantastični" 3D nekako se nadaš da će sve što prije završiti. Nije sve tako crno, ali sam nakon dobrog otvaranja ipak očekivao malo više od filma kojeg je potpisao veliki Joe Dante.
Kombinacija teen mistery, horrora i pustolovine mi je OK sjela, a moram i pohvaliti cijelu glumačku postavu, a posebice najmlađega glumca Nathan Gamblea, koji se vrlo realno borio sa svojim strahovima (i odradio kick ass fajt sa lutkom klauna). Bilo mi je fora vidjeti Brucea Derna u maloj ulozi ćaknutoga Creepy Carla…
Kako to inače običava, moram moj stav o filmu završiti komentarom na tehnikalije, tj. na taj divni 3D. Kada imaš film koji se zove Rupa Straha, baš znaš na koje scene će se 3D fokusirati – zamislite sami – pogled iz dubine rupe i nešto što se spušta u nju i tako prelazi u treću dimenziju. Ovo dobro izgleda, ali je dosadno kada u par minuta ponove jednu te istu foru sa tri različita objekta. Osim tih 15 sekundi i kojih pola minute solidnog lebdenja čestica po "našem" zraku, 3D apsolutno nema nikakvog smisla. Ponovilo se ista stvar kao i sa Saw 3D. Prokleti 3D nikakva korist od njega osim od toga što su filmovi projicirani novim projektorima pa slika kroz 3D naočale izgleda kristalno čisto.