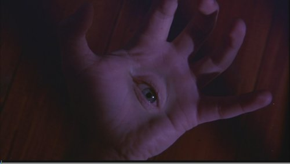 Stephen Dorff u svojoj prvoj filmskoj ulozi glumi dječaka Glena koji u društvu sa prijateljom i sestrom u dvorištu kuće otkriva prolaz koji vodi u svijet demona. Drevni bogovi žele izaći na ovaj svijet, ali za to će im trebati nekoliko žrtava, a na dječjoj ekipi je da pokušaju spasiti stvar.
The Gate je oldskul "dječji horror" kojega je snimio redatelj Tibor Takács dok je još radio dobre filmove. Čovjek se u zadnje vrijeme prebacio na raznorazne SyFy i slične projekte, pa tako potpisuje Kraken: Tentacles of the Deep, Ice Spiders, Mega Snake i niz sličnih debilana. The Gate mi je jedan od onih posebnih filmova koje sam obožavao gledati na VHSu, a do neki dan ga stvarno dugo nisam gledao – mislim od trena kada je tek izašlo i kada sam kupio prvo britansko DVD izdanje.
Da skratim stvari, film mi je odličan, od tih ranijih gledanja, dobro je ostario te mi je sada čak postao još bolji. Vjerojatno na to utječe nekvaliteta modernih horror filmova i sad već poznata činjenica da se moraš vratiti u osamdesete da pogledaš koji dobar horror. Dok je većini "The Monster Squad (1987)" vjerojatno najbolji film sa mulcima u horroru, po meni ga The Gate šiša i preuzima primat. Jednostavno nemam uopće negativnih stavova o filmu, sve mi je dobro pasalo, od dobre glume mlađarije, preko fantastične atmosfere do efekata koji zaslužuju svoj zasebni paragraf.
Sucker sam za svime što nije CGI u horroru, pa me stop motion animacija u The Gate obradovala. Ma ne samo da me obradovala, nego i pošteno iznenadila – vjerujem da bi se autorima specijalnih efekata naklonio i veliki Ray Harryhausen. Od polovice filma kada iz vrata na zemlju počinju izlaziti mali demoni, pa do kraja sa ogromnim velikim stvorenjem, kvaliteta efekata je na zavidnoj razini. Stop motion animacija, posebice kod pokretanja spomenutih malih demona je odrađena iznimno pedantno i na trenutke sam morao razmišljati dali je riječ o stop motionu ili nekakvih patuljicima sa maskama.
Uz spomenute kreature, "The Gate", koji na trenutke djeluje kao "House (1986)" u dječjoj verziji pršti sa odličnom 80s horror atmosferom kakvu novi filmovi ne uspjevaju ni u 10% skinuti…
Vjerujem da će nekim novim generacija ljubitelja horrora, film u prvom dijelu biti dosadnjikav i da će mu faliti napetosti ili krvi, ali za nas nepopravljive 80s nostalgičare, ovo je zakon…