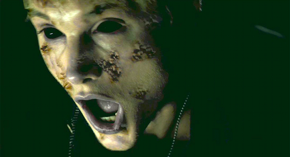 Poremećeni mladić ubija članove svoje obitelji i sve to snima videokamerom. Pri pokušaju ubojstva svoje sestre i njenog tek rođenog djeteta policija uspijeva opaliti par hitaca i ubije ga. Petnaestak godina kasnije, pratimo dogodovštine ekipe wannabe filmaša koji su upravo usred snimanja svog horror filma. Kada jedan od njih naiđe na snimku prethodno spomenutih ubojstava, počinje horror.
Pred par mjeseci na sajtu sam spomenuo ovaj film, tj. fokusirao sam se na to da u njemu glumi Christian Slater i da su u igri neke uklete videokazete. Slater je tu, ali recimo to tako da nije stvar u videokazetama, već u snimci per se, jer se kroz nju manifestira nekakav kvazi sotona i bla bla. I btw, mislio sam da je ovo nekakva moderna obrada Ring serijala, ali baš nije. Ima neke elemente koje prate ukleti "video", ali to bi bilo to.
Film počinje dosta dobro, posebice jer sam ga gledao odmah nakon razočaravajućeg slashera The Sleeper. Intro priča sa popizdjelim mladićem je dosta dobra, te uvod u ovu "sadašnju dramu" davao je naznake da bi moglo biti riječ o solidnom uratku. Ponavljam se po stoti put kada spomenem "pozitivna očekivanja", al' jebeš ga takav je žanr u zadnje vrijeme – opet sam se vrlo brzo razočarao jer je film pošteno zapeo.
Ono što mi je najviše smetalo bilo je to što scenaristi ni sami nisu znali u kojem smjeru da nastave priču. Slasher? Natprirodni triler? Drama? Ima tu svega po malo, a ničega u globalu dobrog da te zaintrigira. Gluma je tako tako, Christian Slater je OK, posebice kada vidite kakvu bizarnu rolu ima u filmu – očito je i on propao u zadnje vrijeme. Iz horror perspektive, ostao sam razočaran, nije baš da ima previše akcije, ali moram spomenuti par dobrih gore scena – pogotovo jedna eksplodirajuća glava.