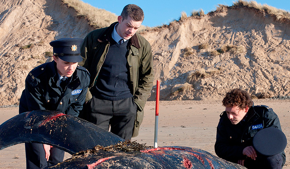 Mlada policajka dolazi na mali irski otočić na dva tjedna zamijeniti jednog od dva policajca koji su tamo stacionirani. Puna entuzijazma, prvo se šokira kada vidi da joj je partner okorjeli pijanac, a stvari se dodatno kompliciraju kada u drugom danu dolazi do nekoliko nestanaka i nasukavanja desetine velikih kitova na obalu. Krivca ubrzo pronalaze u vanzemaljskom biću koji se hrani ljudskom krvlju.
Grabbers je nakon odličnog postera i zanimljivog sinopsisa postao jedan od očekivanijih filmova godine. Riječ je o još jednoj horror komediji koja dolazi iz umova europskih filmaša i to iz Irske, zemlje koja nije snimila baš previše horrora. Scenarist je evidentno, a što je kasnije i potvrdio, inspiraciju uzeo iz sci-fi horrora osamdesetih, a utjecaj na Grabberse su imali Gremlini i odlični Tremors.
Vanzemaljsko biće pada zajedno sa kometom i ubrzo se počne razmonožavati. Riječ je o nekakvoj živini punoj pipaka, koja poput žabe koristi svoj jezik da ulovi svoj plijen. Za život joj je potrebna ljudska krv i voda, a na maloj irskoj seoskoj zajednici je da otkrije kako preživjeti noć.
Što bi drugo Irci napravili nego shvatili da je jedino rješenje u ekstremnom alkoholiziranju. Stereoptip je ovdje doveden do krajnosti, ali razlog opijanja je vrlo praktičan – vanzemaljcima je alkohol u krvi poput otrova. Grabbers je zabavan filmić bez ikakvih pretenzija, koji uspjeva skinuti ono najbolje iz spomenute atmosfere osamdesetih i u to ubacuje dopadljive likove i solidan humor. Dvoje policajaca koji "vode kolo" su simpatični, a različitosti se dakako privlače, pa se između njih u ovakvoj čudnoj situaciji stvara i romansa.
Specijalni efekti su začuđujuće dobri, monstrumi izgledaju stvaro odlično i mogu reći da CGI uopće ne smeta tijekom filma. Na ovom prikazivanju je bio i voditelj specijalnih efekata koji je zahvalio redatelju što ga nije, kao svi ostali, mučio da sve napravi u tri puta kraćem roku. Kaže da mu inače klijenti kažu – imaš 4 mjeseca – a onda mu daju tri tjedna. U ovom slučaju imao je punih devedeset dana da u postprodukciji napravi najbolji mogući posao. Kapa dole, za limitirani budžet i za malu firmicu koja je vjerojatno iz Irske, efekti su bili dosta dobri.
Grabbers je stvarno fora fimić kojemu je trebalo još nešto da postane odičan, ali i ovako je vrlo pozitivno osvježenje vidjeti novu zemlju na europskoj mapi horror žanra.
Za sve vezano uz FrightFest 2012, klik na festivalski logo: