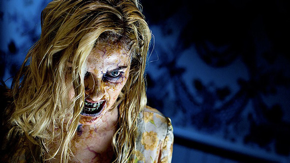 Mladu gluhu djevojku život nije mazio. Oca nikada nije imala, a nakon smrti majke na njoj je ostalo da se brine za mlađu sestru. Nakon još jedne nesreće u životu, pogibije sestre, Lilly okreće novu stranicu života i odlazi u gradić Cassadaga na Floridi. Tamo napravi jedan kiks – u društvu prijatelju poziva duh sestre, ali uz nju dolazi i netko drugi.
Cassadaga je gradić u Floridi koji se nalazi negdje otprilike na pola puta između Orlanda i Daytone. Poznat je kao "svjetska metropola vidjelica i medija", pa je kao takav savršen odabir za smjestiti film ovoga tipa. Od samog početka, lik Claire je dobro postavljen i solidno odglumljen, tako da se kao gledatelj donekle vežeš za njenu zlokobnu sudbinu. Pozitivna stvar za početak – većina novih horrora ne uspije, a neki se niti ne trude napraviti vezu između lika i osobe pred televizijom.
Dolaskom u Cassadagu, Claire se smješta u gostinjskoj kući na velikom imanju kojega vodi ostarjela gospođa Claire (za "One Flew over the Cuckoo's Nest" Oscarom nagrađena glumica Louise Fletcher). Osim spooky arhitekture, sa njima živi i vlasničkin unuk, čudak sa perverznim seksualnim preferencijama (Lilly ga ulovi "sa rukom u medu"). Nakon spomenutog prizivanja duhova, uz Lilly se počinje pojavljivati poluraspadnuta plavuša koja od nje nešto želi. Ako ste gledali ovakve filmove, znate i sami da duh želi da se nekako ispravi nepravda (čitaj brutalno iživljavanja i grozna smrt) koja ju je snašla u životu.
Film nudi solidne horror elemente, koji zapravo nisu nešto inovativni jer se prate svi trendovi opsjedanja. Makeup je odličan, pa (ne)mrtva plavuša definitivno ima svoje momente. Ono što mi se sviđalo oko Cassadage je to da odjednom scenarij krene u drugom smjeru, te postaje nekakva kombinacija gialla i horrora sa duhovima. U igru ulazi Gepetto, manijak nad manijacima, koji sa otetim djevojkama radi svakakve gadarije. Za ideju o njegovom modusu operandi, razmislite malo o njegovom imenu.
"Cassadaga" je indie film produciran od strane Anthony DiBlasia, čovjeka koji je radio na nizu Clive Barkerovih adaptacija uključujući i odlični The Midnight Meat Train. Nije tu bilo nekakvog prevelikog budžeta, ali je film vrlo lijepo snimljen, prilično dobro odglumljen i zasigurno ima nešto za ponuditi gledaocima. Po meni, trajanje od kojih sat i četrdesetpet minuta je malo predugo, mogli su skinuti tih petnaest minuta i vjerujem da bi se sa tim prešlo preko evidentnog zamora scenarija u završnom dijelu filma.
Makar je u filmu riječ o poznatim, već viđenim konceptima, "Cassadaga" je ispao sasvim solidan direkt-na-DVD filmić.