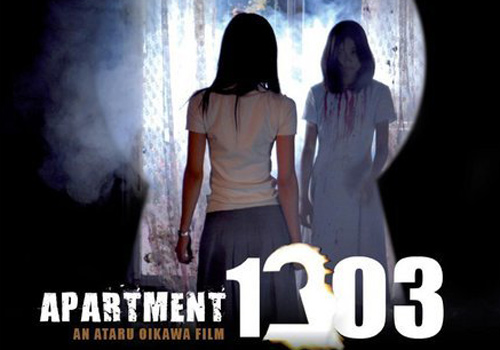 Već koje vrijeme zabušavam sa J-horror valom, pa sam si rekao da moram malo osvježiti znanje. Od poslovnično velikog broja horror filmova koji su i ove godine snimljeni u Azijskim krajevima u oko mi je zapeo "Apartment 1303" redatelja Ataru Oikawe koji za sobom ima par novijih nastavaka Tomie serijala. Mlada djevojka se tek useljava u stan i dok otpakirava kutije čuje nekakvo krcanje iz jedne od soba. Nakon što otvori paravan iza kojega se vidi samo mrak, u stanju transa izlazi na balkon i baca se sa trinaestoga kata. Nakon njene smrti stan još jeftinije dobiva druga djevojka, koja završava u vrlom sličnom stilu. Njena sestra pokušava odgonetnuti što se zapravo desilo.
Film je nažalost prepun klišeja na koje smo uz sve te azijske horrore potpuno postali imuni. Sva ta krčkanja, misteriozne mrtve osobe sa dugim kosama, male spooky djevojčice postale su nevjerojatno izlizane i sumorne. Kako je film započinjao, mislio sam da su napokon krenuli sa nekakvom kombinacijom između tog J-stila i američkog đira (ubacivanje hrpice teenagera u spomenuti ukleti stan), ali nažalost to je bila samo podloga za početak radnje koji se vrti oko jedne žene i njenih pokušaja da dokuči što uzrokuje misteriozna samoubojstva.
Iz perspektive zabave, filmić ima par ok scena poput "mangovito" opičenog bacanje jedne od njih koja u transu stavlja motorističku kacigu da kao "ne ozljedi glavu", do finalnih scena napada na grupu mladeži. Sve drugo je klišejizirano otkrivanje uzroka, flashbackovi koji objašnjuju zlu kob koja stvara probleme i to je nažalost sve umotano u poprilično spori tijek radnje koji nakon "furioznog" otvaranja i očekivano napetijeg kraja ne daje gledatelju nikakvu zanimaciju.