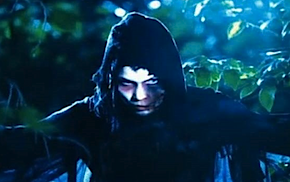 Alone in the Dark jedinica je prvi ikada napisan osvrt na HorrorHR, tj. tadašnjoj Horror Filmomaniji na horror.blog.hr. Takav epski spektakl gigantskih proporcija napokon me pokrenuo i evo, kojih pet godina kasnije još sam tu, gledam podjednako loše filmove. Za "Alone in the Dark II" želio sam napraviti iznimku, napraviti najkraći ikada članak do sada na sajtu – sastojao bi se samo od dva slova – NE. Ali, ajde, ipak moram prosuti malo žući, pa uživajte u istinskom pljuvanju "ovoga".
Film sam pokušao pogledati već pred koji tjedan. Stavio sam ga u DVD player, lupio play i već nakon uvodne scene zagasio. Nisam imao volje potrošiti 90 minuta na nešto što toliko bazdi na trulež. Neki dan sam bio u moodu, skinuo par filmova sa svoje liste za gledanje i šećer na kraju je bio upravo Alone dvojka.
Sjećate se jedinice? Ni ja, ali pamtim samo da sam od tog filma počeo "cijeniti" Taru Reid i da mi je Uwe Boll postao nevjerojatni upitnik. Znam samo da su se bakćali sa nekakvim monstrumima – e pa dvojka nema apsolutno nikakve veze sa jedinicom. Tj mislim ima jednog istoimenog lika, ali ga glumi drugi tip, pa se ne računa. Očekivao sam monstrume, a dobio neku kompjuteriziranu vješticu.
Michael Roesch i Peter Scheerer, dva njemačka masterminda, napisali su scenarij i režirali ovaj šrot. Već se po DVD kutiji može vidjeti da se najviše vremena potrošilo na uzimanje poznatih glumaca za jako kratke uloge, a scenarij je samo nekako složen reda radi. Neka vještica, nož, snovi, vizije, napadi, mrak, nešto… Nešto… Nešto loše…
Glede glumaca, ima tu svega od Lance Henriksena, preko Billa Moseleya, Bollovog heroja Zacka Warda (ipak je Boll producent), pa do petminutnih pojava Danny Treja, Michael Parea, Jason Connerya, P.J. Soles i Natassie Malthe. Kakva ekipa mila majka, a uz sve to, perjanica filma, čovjek koji je prvi kapariran – onaj Azijac iz Fast and the Furious, za kojega sam naknadno na DVDu saznao da je glumio i negativca u jednog od novijih Bondova. Gluma u globalu kao režija. katastrofa, jedino Lance i Moseley daju ok predstave.
E sada koliko je film loš? Toliko da sam morao pogledati sve specijalne dodatke na DVDu – da, od intervjua sa glumcima, do devedesetominutnom audio komentara redateljske ekipe u društvu sa Billom Moseleyem. Majko moja kakav komentar, da nije bilo Moselya, ovi bi rekli možda 5 rečenica. Moseley ih, nadam se za njega, na trenutke i zajebava, da dali su Alone in the Dark novu igricu radili po njihovom filmu. Još i to…
Bar sam za vrijeme filma pročitao skoro cijelo zadnje izdanje Newsweeka, toliko me "Alone in the Dark II" zadržao uz ekran